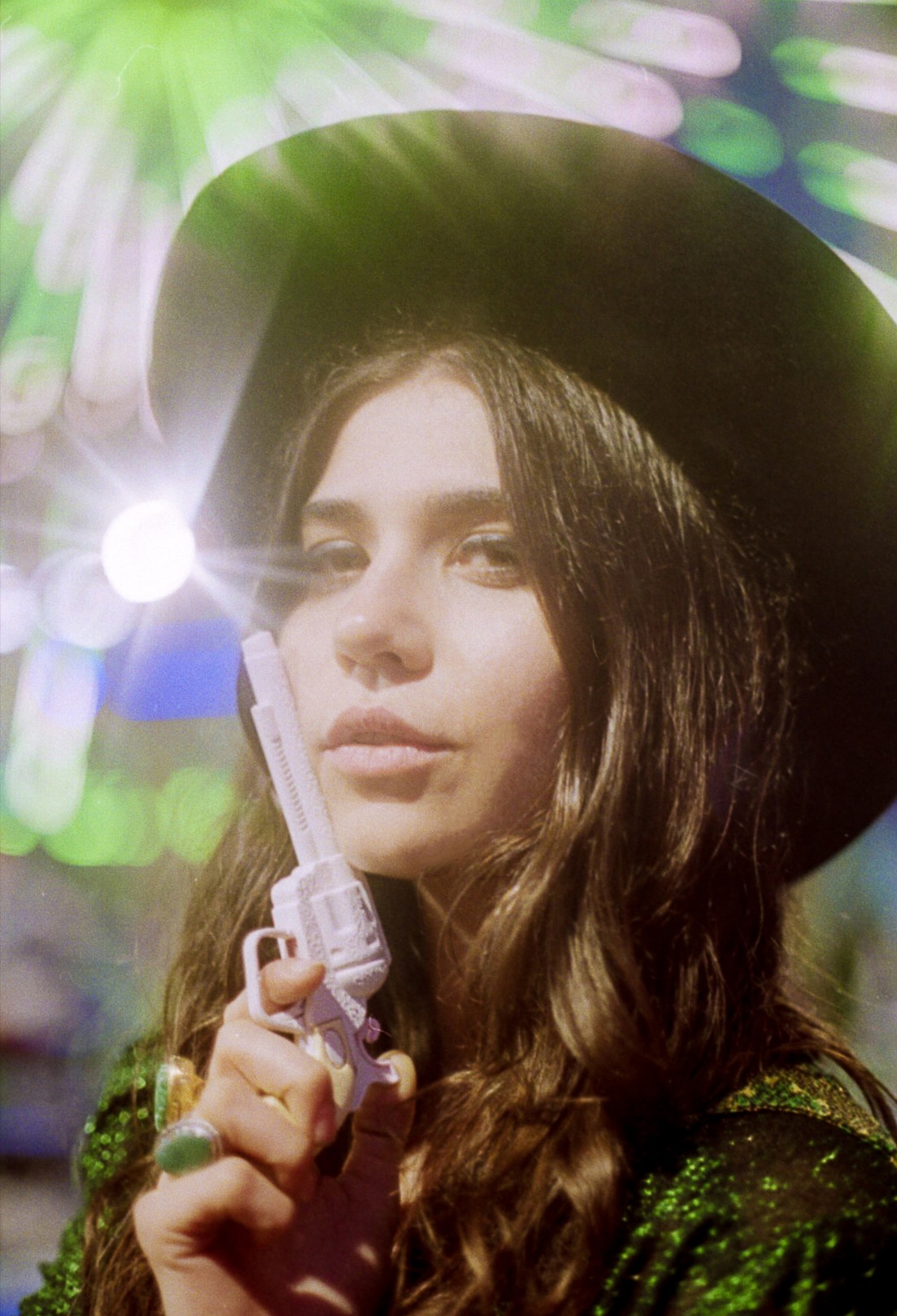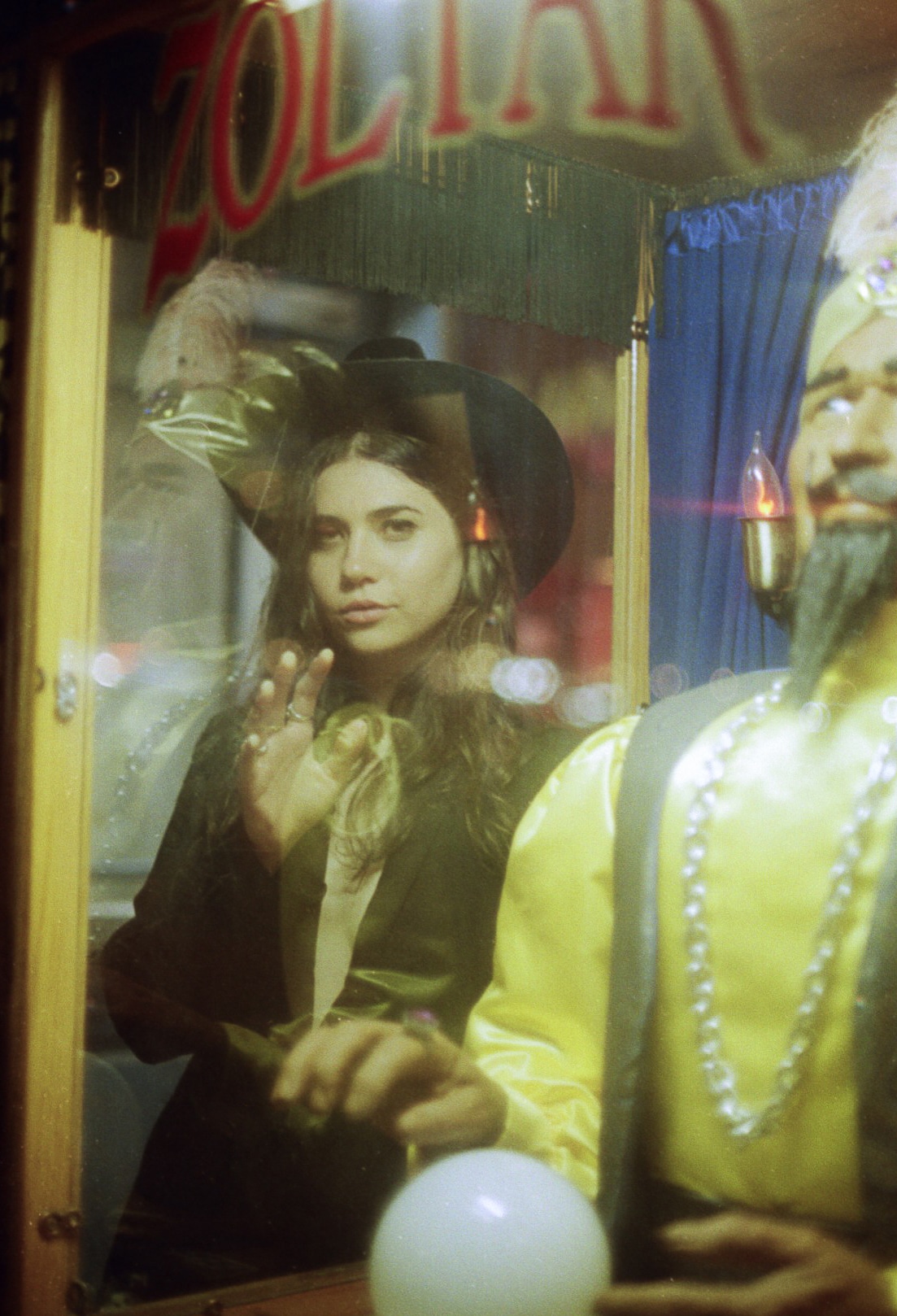 When we dream, are we ever really attuned to the melodies that seep in and out as we dance in and out of consciousness? Are there things being said and memories being recalled we couldn't even pragmatically discern before we dreamed?
To sleep is to dream, but is to dream to sleep?
Pearl Charles is a poetically seismic force, bouncing off melodies near and far. She crosses genres and allows it to all swirl together, beautifully composing her wistful sound.
Much like a collage, she picks pieces from her favorite time periods to influence and or play a role in her music. So much of individuality is this process of deconstructing, rearranging and claiming what is ours. In a graceful and seamless manner, she has glided from 60s garage, psychedelia, 70s country rock and presently to more of an 80s soft rock.
The LA native had the lineage and sphere of creativity from the influence of her artistic parents. She began exploring music at the age of 5 and continued to cultivate her talent. With her debut album, Sleepless Dreamer (Kanine Records), released in February of this year, is a magnetic experience of didactic vulnerable assemblance. 
The two tracks that I really melted into were Night Tides and Sleepless Dreamer. I was really captured by the wistful and slight tang in her voice on Night Tides as she sings, "It's hard to let go when you're chasing a ghost and the dark runs into the light," eliciting visions of a full moon, a desert landscape, and a dissolving sky. The imagery of letting go of a ghost is a beautiful kind of cry that reminds me of wind. Sleepless Dreamer: What starts as an illuminating oxymoron unravels through a stream of her heart-wrenching lyricism. An ode to the suspended moments of the in between, the inherent magic of running towards love. Her voice feels like syrup, but her words punch like brick.
With her upcoming video release and summer tour, Charles is on the glittered rainbow of equivocal dreams and the lackadaisical pursuit of cultivated expression.  
Her long chestnut middle parted hair and illustrious eyes are an echo to her melodically nostalgic lyrics. What am I missing? Have I been here before? Falling in love over and over, her voice is an exquisite dream.
SF. How did you get into music? When was the moment you knew this was your path and you were going to fully commit to your music?
PC."I've been playing music since I was 5.  My older sister was taking piano lessons when I was 4 and I begged my parents to let me too. I started playing when I was 5 and I feel it was also around that age I did my first musical theater production. I also started taking voice lesson around 9 and guitar around 12. 
When I was in high school I got in trouble for sneaking out and my mom's friend caught me smoking pot and she called the school and told on me. I had been in all the theater productions and had lead roles, good grades so I was poised for a lead role, but I didn't end up getting any role at all. It was a blessing in disguise because I ended up quitting and not doing theater after that because I was so pissed off. And I just fully went into making music, started writing songs."
SF. Where did you go to school?
PC. Cal Arts (Santa Clarita)
SF. What influences and inspires you? (People, places, food, art, music etc!)
PC. "Recently, I have especially been into psychedelics. They really helped a couple of the songs on Sleepless Dreamer write themselves. I feel like songwriting is a kind of therapeutic kind of process, so I try to use it as a way to discover things about myself and the situations I find myself in. I wrote a lot of these songs about certain relationships that I find myself repeating, or see what I write come true.  Art imitates life and they kind of bleed into one another."
SF. How do you incorporate weed into your lifestyle?
PC. "I've been smoking weed consistently definitely since I was in high school and maybe even younger. I like smoking, it's definitely my intake method. It's one of the first things I do when I wake up in the morning. It keeps me really level and balanced, people take pharmaceutical drugs to get through the day and I just find for me that weed puts me on that even keel. I want to be in a chill zone, I don't want everything to get to me."
SF. If you could get high with any three people living or dead who would they be and why?
PC. "I mean I feel like I have to say, Willie Nelson, because he is the ultimate stoner. I met him once, but we didn't get to smoke.  I know Neil Young is a big smoker so I'd definitely want to smoke one with him and I've been lucky enough to smoke a joint with Jenny Lewis because she's become a really good friend of mine. She's one of the most badass females"
SF. Most memorable time getting high?
PC."One of the times that I consider to be the perfect high is when I went to see Roger Waters because a bunch of my friends was actually lucky enough to be in his band. I will admit there was a combination of substances, but it was the most perfect combination of everything and weed was definitely in there, "the icing on the cake".  There were the craziest lasers and the visuals were just insane. The coolest part was that they had a pyramid of lasers ala Dark Side of the Moon that came out and covered the entire audience. My bandmates and I were just like, woah, this is the ultimate show!
SF. What has been one of your favorite performances /why?
PC. "We got to play Austin City Limits, which was definitely a bucket list kind of thing for me. I also got to sing at the Troubadour. They would have Tom Petty's band, The Heartbreakers, and they would do this thing called The Merry Minstrel Circus and they brought the best people to participate: Tom Petty, Jeff Lynne from ELO, John Fogerty. And at the end of those nights, they would have everyone who performed come on stage, so I got to sing with those people. It was life-changing, one of those times I was like wow, all of my dreams have just come true. I just got to sing with these people, so fucking cool!
SF. What kind of music are you currently listening to?
PC. "Well I am always listening to 70s music, but I am also really into the new Nico Case record.  I've been obsessed with ABBA and the Bee Gees because I am reading the Bee Gees biography."
SF. Can you describe your style in a few words?
PC. "Well on stage I like to wear statement pieces. I have a friend who owns a Belgian clothing line called Desert Sun and she has made me some really cool custom pieces. One is a dress that has real pearls sewn into this oyster kind of pattern and has my name on the back. She also made me another dress, which is one of the dresses in her line and has a bunch of music notes on it, and she bedazzled one for me and put my initials on the collar."
SF. If you could go back in time, what era would you live in?
PC. "I will stand by my other statement, definitely the 70s. It's funny because the 60s and the 70s have definitely very much been combined with a lot of people, they think of hippies, but also disco. But each is so distinct especially fashion-wise. Obviously shit was not good back then for a lot of people and for a lot of reasons, but it's not like shits so good for everyone now. It's cool that we're living in a better time now for women, but I mean at least the music was better back then!"
SF. Favorite strain?
PC. "Probably blue dream, I love stevias."
SF. What is your go-to outfit?
PC. "I would say a pair of high waisted jeans like Levi's or Wranglers and then a good vintage band t-shirt. I mean this would be for my every day, on stage, I love to get funkier and disco. That's the fun thing about having a stage persona, but I don't have to do that all the time."
SF. What is your favorite quality about yourself (physical or personality or both!)
PC. "That's a tough question. I mean I think the most important thing to me is songwriting and I think that the fact that I am able to do that is something I am very pleased with, but it is very difficult. I am reading this book about The Bee Gees and they talk about how Barry Gibb would write songs in ten minutes, they'd give him an idea and he would just shoot it out in five seconds and I am just like damn dude, it takes me so long. But when I am actually able to do it there's no better feeling."
SF. What is your timeline like with writing songs?
PC. "It really depends. Another thing someone said in this Bee Gees book was that it takes 25 years to make your first album and one year to make your second. I've been working on all the songs for this debut LP for a long time, I started some of them when I graduated high school and then I started/finished some within a week of being in the studio. It really has to do with the song itself and what I was saying earlier about life imitating art. I started this song and didn't necessarily know what it was about until something happened to me and then I was like, oh this is what it is about and now I know how to finish it. Because sometimes they come to you and it feels like they're being beamed in from some outer source. But sometimes you're not necessarily ready to process it yet, but it is there for when you need it. "
SF. What is the tone/energy for your upcoming album?
PC. "I haven't actually started recording it yet, but I've written at least four or five songs for it and I am really excited. My EP and my record are pretty different, but I like the direction I went with on the record, although people really liked the EP. It's funny because I am on the road performing my new album, but people are still buying the EP. I am not necessarily going to shy away from the old stuff, but try and meet somewhere in the middle.
SF. What are your goals for yourself and your music in the next 5 years?
PC."I would really love to play more festivals, just because you get to play for more people and support more artists that I like. And I want to be able to support myself and also something that is super important to me since I am a bandleader is being able to play with the same guys and they don't have to stress about money and I can confidently provide that to them. I don't have any unrealistic expectations, I mean I want to go as far as I can go, but ultimately as long as I can keep writing music and being on the road then I'll be happy.
TOUR DATES
August 14th, St. Louis, MO. Old Rock House/ August 16th, Denver,CO. Lost Lake Lounge/August 17th, Salt Lake City, UT. Kilby Court/ August 23rd, New York, NY./ The Bowery Electric
Photography | Amanda Adams @adamandaa