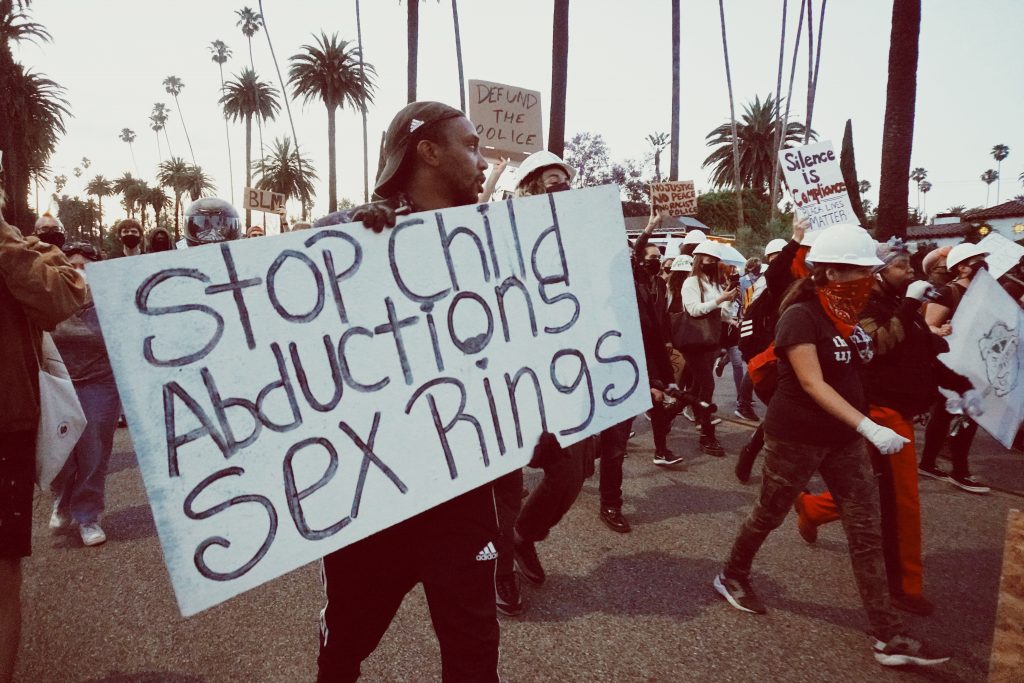 " I am no longer accepting the things I cannot change. I am changing the things I cannot accept. " – Angela Davis
There is no denying we are currently in a period of a global shift, a grand awakening. The Black Lives Matter movement along with the recent shutdown has given the world an opportunity to rise into a collective power on a universal level. As we stand, history is being written and for many in the black, brown, and indigenous community it needs to be re-written.
The Peoples Revolution
On Friday, June 26th the Black Lives Matter protests were headed into their 5th week and showed no signs of stopping. Organizing and showing up to keep relevancy to the voices silenced is not an easy task and these unabating protests prove the youth is ready to rise.
After attending protests and listening to the horrible atrocities and accounts of police brutality, and illegal treatment of U.S. citizens, by the police (what's new ) Stoned Fox eagerly reached out to our community to build CBD wellness kits. The kits were filled with tinctures, topicals, CBD pre-rolls, protein packs, masks, and more, including Black Lives Matter tape by artists Alex Guerra. The innate desire was to help assist our heroic freedom fighters to heal naturally and take care of their mental health which was emphasized heavily at the ongoing protests.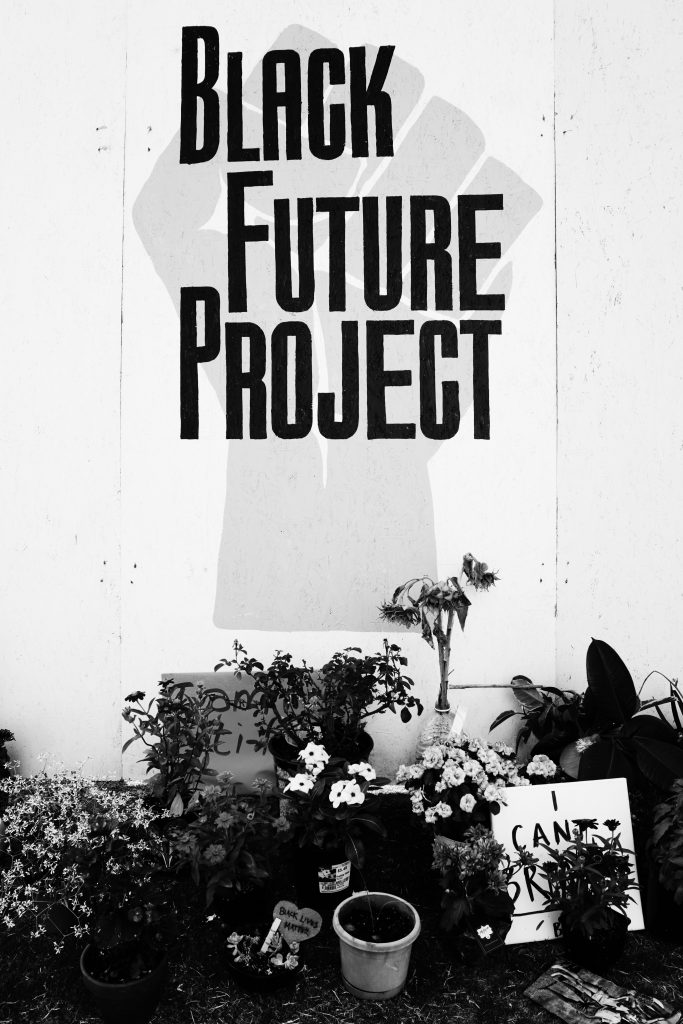 Starting at City Hall, we met up first with one of the group leaders of the Black Future Project who goes by the name James. James was in the process of escorting out a guy who was seen trying to spread drugs to some of the protestors. A tactic he says that is set to tarnish their reputation, get them arrested, and silence them.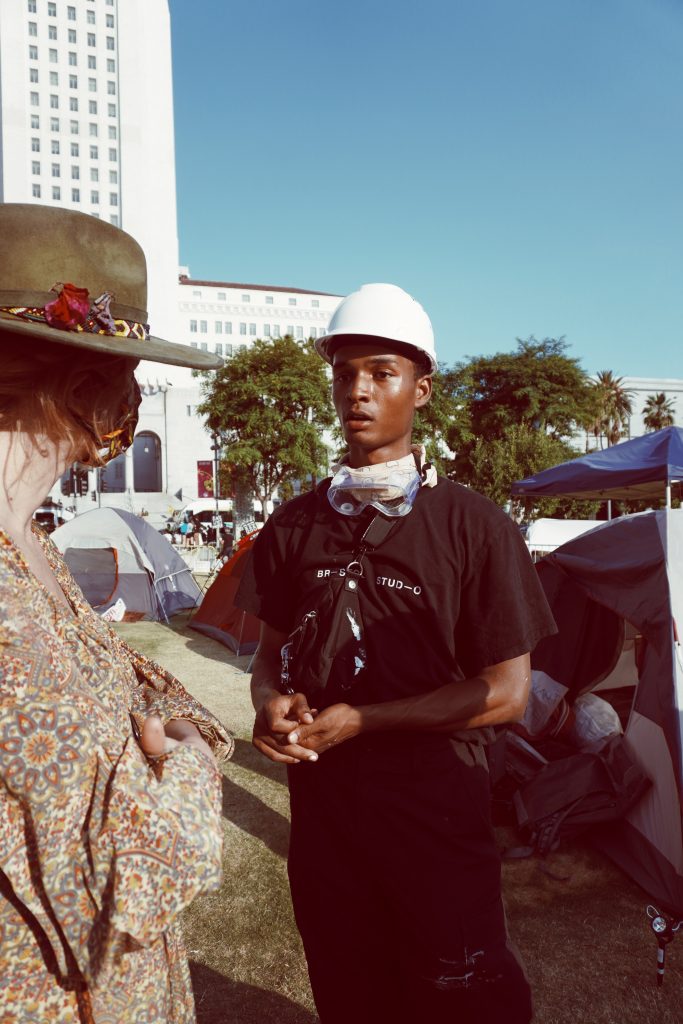 We found James gearing up for a 24hr protest through the neighborhoods of Beverly Hills, dressed in full protective garb including hard hats, goggles, gloves, and umbrellas which were all apart of their standard gear, a necessary precaution after being attacked by LAPD by long-range acoustic weapons from one of their recent peaceful protests in Beverly Hills.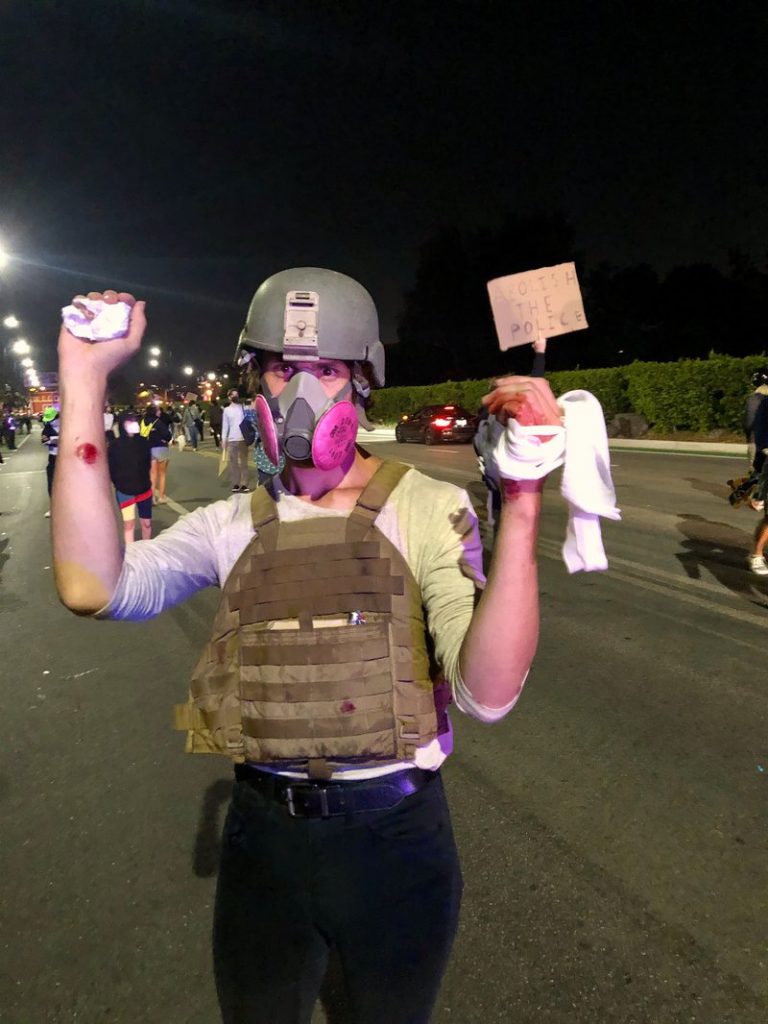 We The Movement LA
The first March began at 5:30 PM with We The Movement LA, a group that formed during the beginning of these recent BLM protests in LA. They gained traction due to their emphasis on peaceful and safe protests. After We The Movement LA was apart of the Black Lives Matter LA protest that broke the record for the largest in Los Angeles history with 50,000 people showing up masked, amongst the COVID-19 crisis. They kept up their growing momentum and are now up to a team of 17 thought leaders, of which comprise of 13 African American descent and 4 allies of other cultural decent who actively lead weekly protest groups consisting of hundreds of BLM supporters.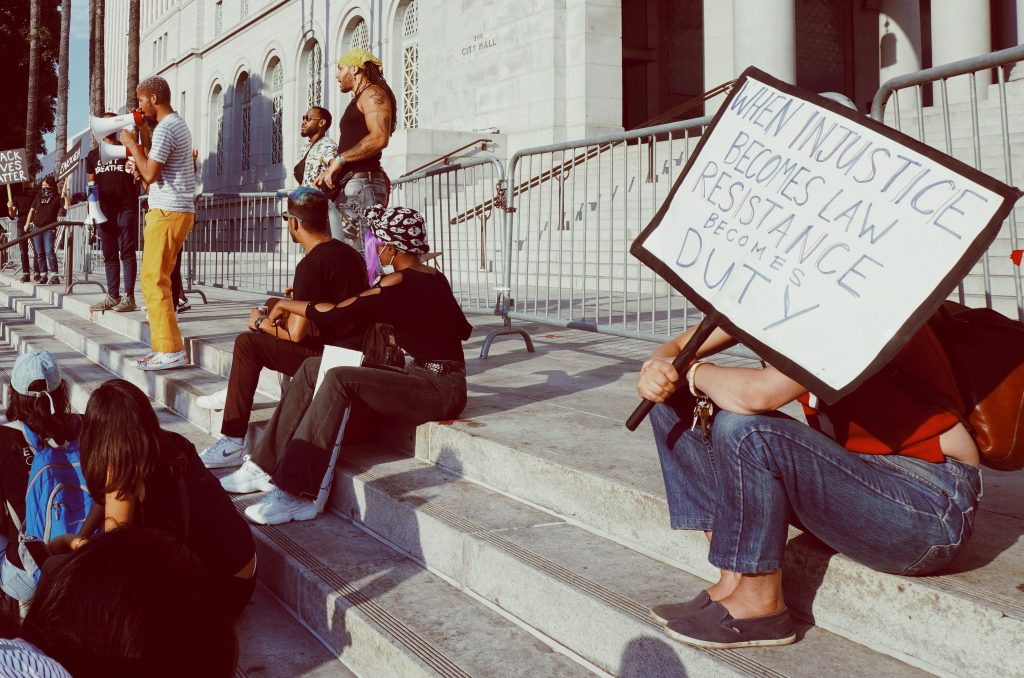 The march started Downtown at City Hall, as the protestors made their way to the Staple Center, chanting " this is what democracy looks like " and " Whose Streets? Our Streets ". The Energy was electric, filled with light, love, and hope, with the one message ringing clear, NO JUSTICE NO PEACE!
As the nation's news has turned its focus of a COVID-19 spike, there seems to be subtle silencing to the BLM movement, however, these two organizations are making sure that the embers never extinguish.
We can not forget that there are over 600 murders by the LAPD in the last 10 yrs during Jackie Lacey's occupancy and that is just Los Angeles. These protests are a reminder of the unjust murders by our Police, like that of Breonna Taylor, a 26-year-old emergency technician who was shot 8 times in the middle night while she slept after a brief exchange with police. Or that of sweet Elijah McClaine a 23-yr old massage therapist who was murdered on his walk home while listening to music after picking up ice tea for his brother from a nearby convenience store.
I can't breathe. I have my ID right here. My name is Elijah McClain. That's my house. I was just going home. I'm an introvert. I'm just different. That's all. I'm so sorry. I have no gun. I don't do that stuff. I don't do any fighting. Why are you attacking me? I don't even kill flies! I don't eat meat! But I don't judge people, I don't judge people who do eat meat. Forgive me. All I was trying to do was become better. I will do it. I will do anything. Sacrifice my identity, I'll do it. You all are phenomenal. You are beautiful and I love you. Try to forgive me. I'm a mood Gemini. I'm sorry. I'm so sorry. Ow, that really hurt. You are all very strong. Teamwork makes the dream work. Oh, I'm sorry I wasn't trying to do that. I just can't breathe correctly. –
Elijah McClaine's last words. He died of a heart attack and brain damage.
" One officer accused McClain of reaching for his gun, and one put him in a carotid hold, which involves an officer applying pressure to the side of a person's neck in order to temporarily cut off blood flow to the brain. "Due to the level of physical force applied while restraining the subject and his ao called "agitated mental state," officers then called Aurora First Responders, who "administered life-saving measures," according to a local NBC affiliate. Paramedics injected McClain with what they said was a "therapeutic" amount of ketamine to sedate him, while officers held him down. – THE CUT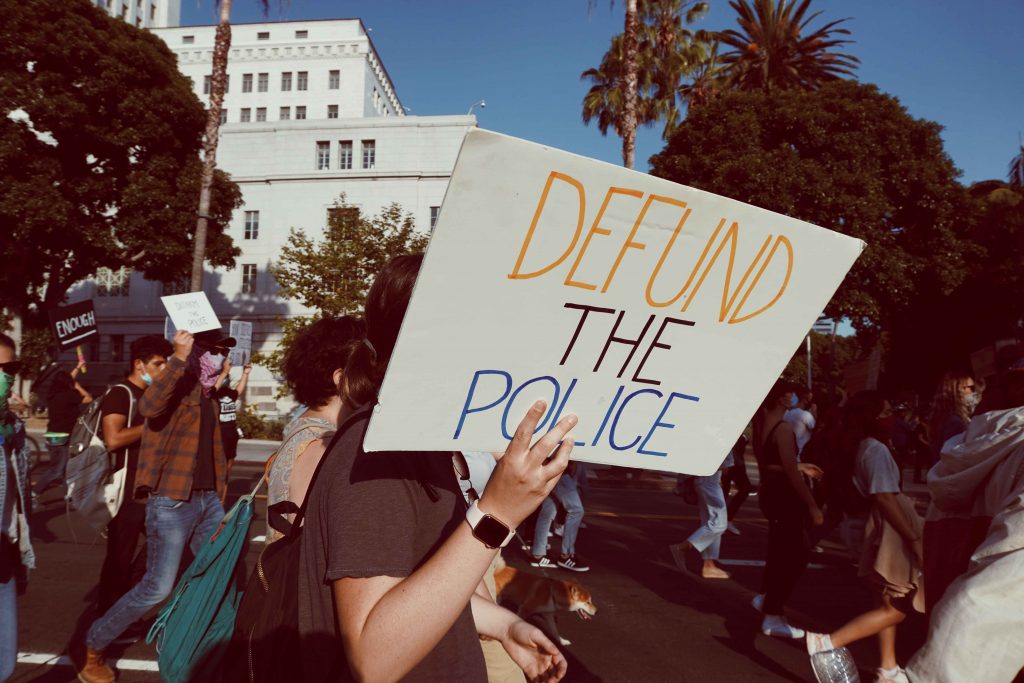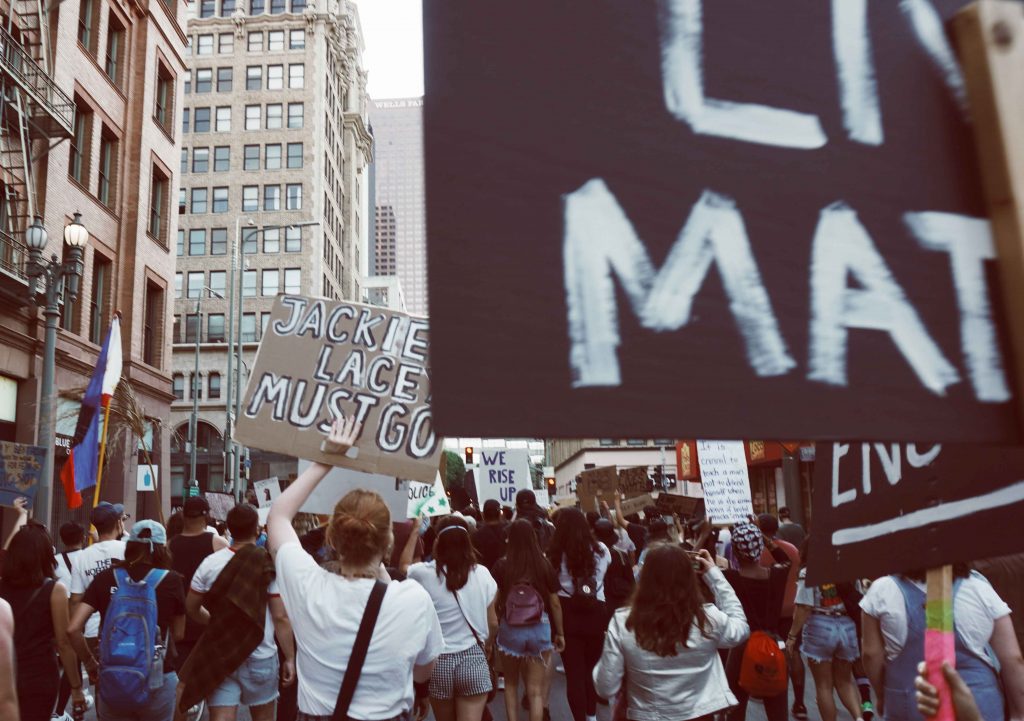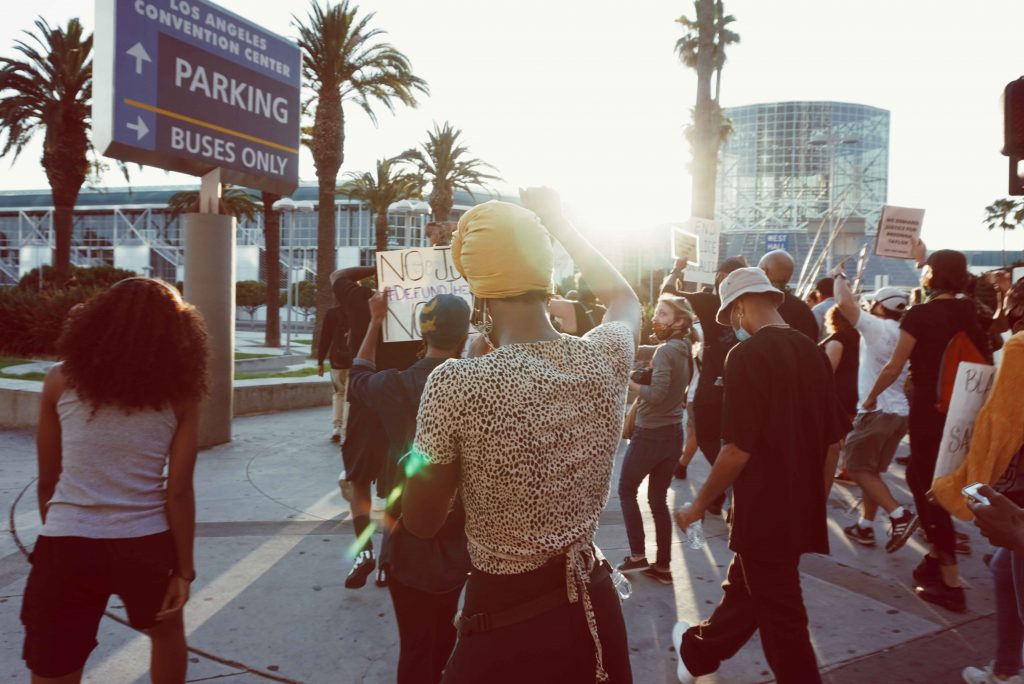 Black Power is giving power to the people who have not had power to determine their destiny. – Huey Newton
BLACK FUTURE PROJECT
As the sun began to set, we said our goodbyes as the crowd marched, chanted, danced, and sang back towards City Hall and we cruised down to Beverly Hills, towards the Civic Center, on the search for James and the Black Future Project protest.
We arrived a little over an hr late. Slightly exhausted and having trouble locating the group we almost gave up until fate had a different plan in store for us. We made a wrong, or right turn and got stopped by a Police officer who began directing us away. I quickly asked if he heard about a protest and he responded, " Yup that's why I'm here, their straight-ahead" he then let us through and directed us where to park. We found them marching through the streets of Beverly Hills residences on the way to the Beverly Hills sign.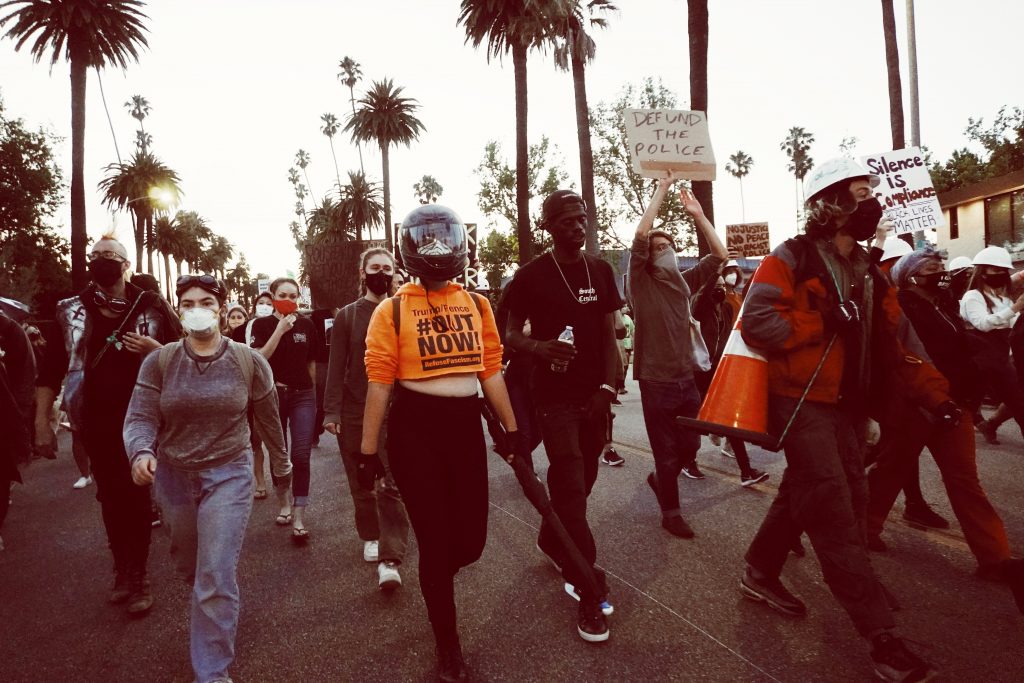 Immediately their intentions became clear: a resounding reminder to the rich that they are far too comfortable and it's easy to hide behind your bank account, big house, and security while the rest of the world cries and crumbles. As they marched through the streets they chanted: " Eat the rich, save the poor." This protest was set to last 24hrs throughout the buttoned-up neighborhood of Beverly Hills.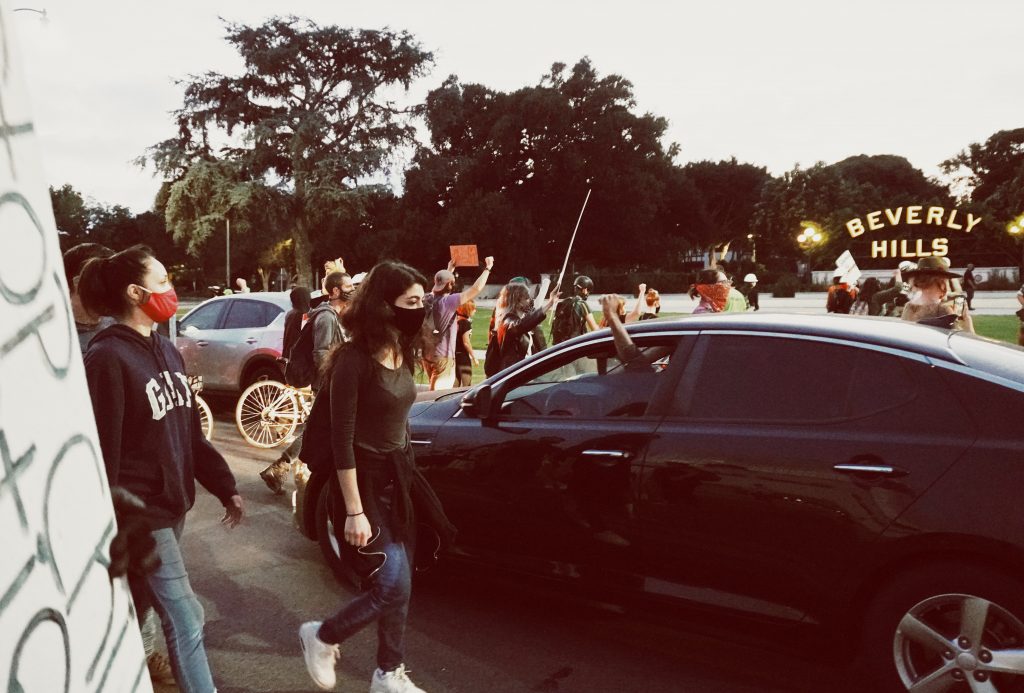 Led by James and Sabrina Webb, cousin to Michael Brown; Michale Brown the18 yr. old man who, with his hands up, screamed "don't shoot" before being tragically shot six times at point-blank in Ferguson County, Missouri, just over 5 yrs ago. Unjustly, the U.S. Department of Justice concluded that Wilson shot Brown in self-defense, claiming there was no proof he had his hands up, stating "the multiple witnesses were not credible."
Michael Brown is just one of the many glowing embers, and a soft long breeze to ignite this movement that has been working its way up to this raging fire we see today. It's staring fear straight in the eyes to its very core and being untethered; it's turning the pain into purpose and knowing on the other side of fear is freedom.
"I'm 30 yrs. old and I've lived a life for an 89 yr. old, I've seen and experienced things no one should, and have been fighting this fight for almost 6 years, that's why we are here today, to end this." – Sabrina Webb Cousin of Michael Brown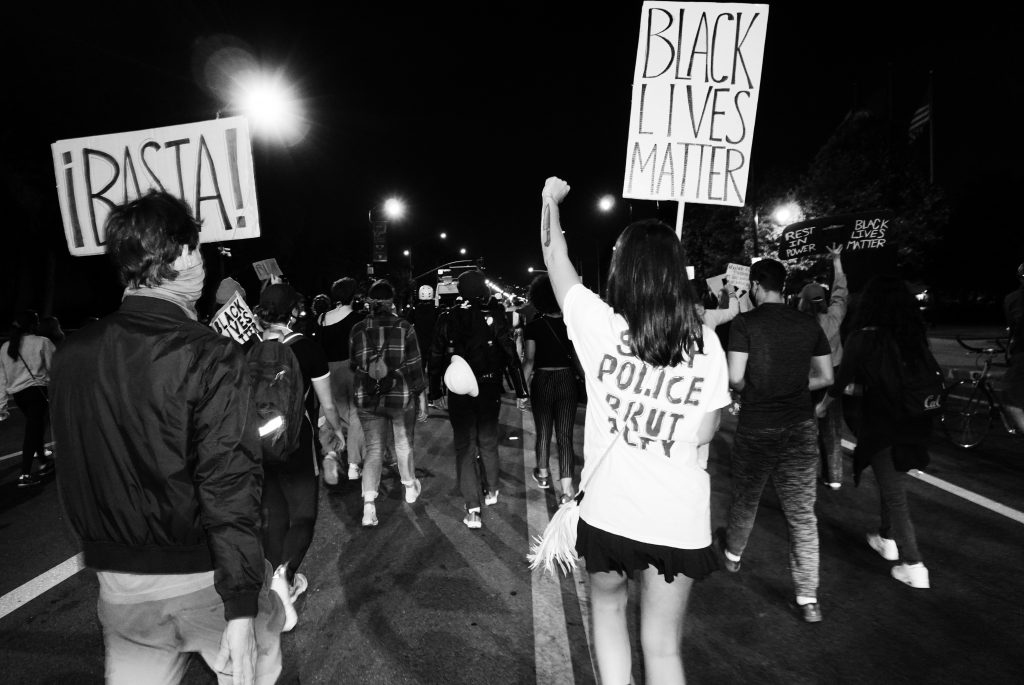 Here, the mood was anything but light; It was raw and real, intense and passionate yet also educational and conversational but it demanded accountability and participation was inescapable.
Protestors began ripping an American flag hanging on the building wall next to the Civic Center, holding an anarchy flag next to it, showing that our flag does not represent justice and freedom for all. It is time that the system which has failed us as a collective and the hierarchy that exists and persists within be removed and held accountably. ENOUGH IS ENOUGH!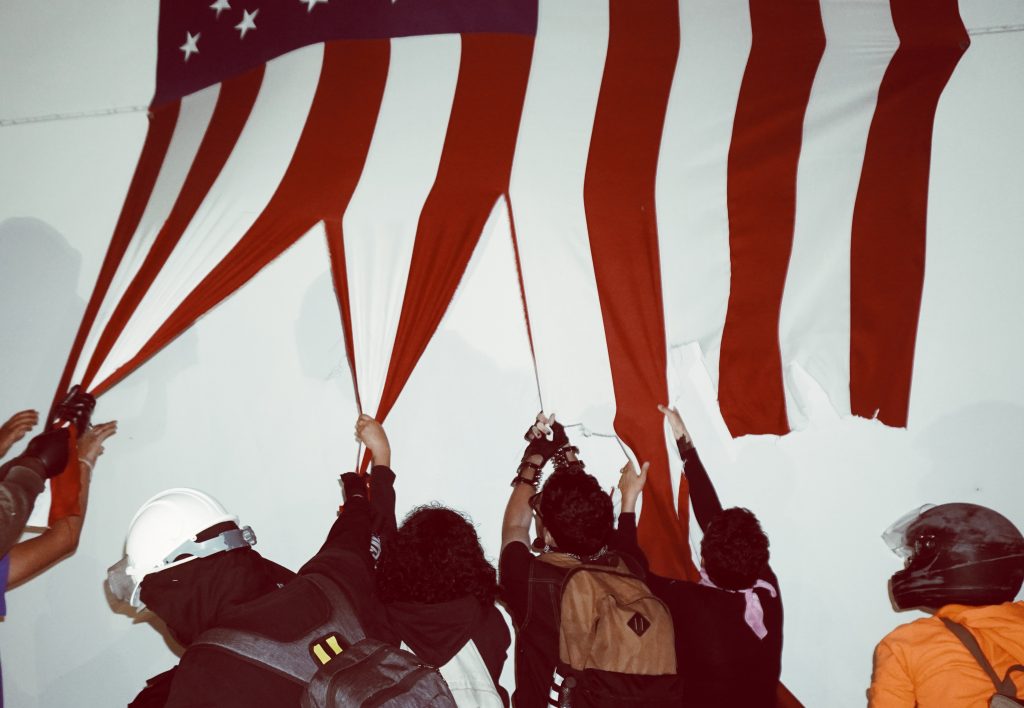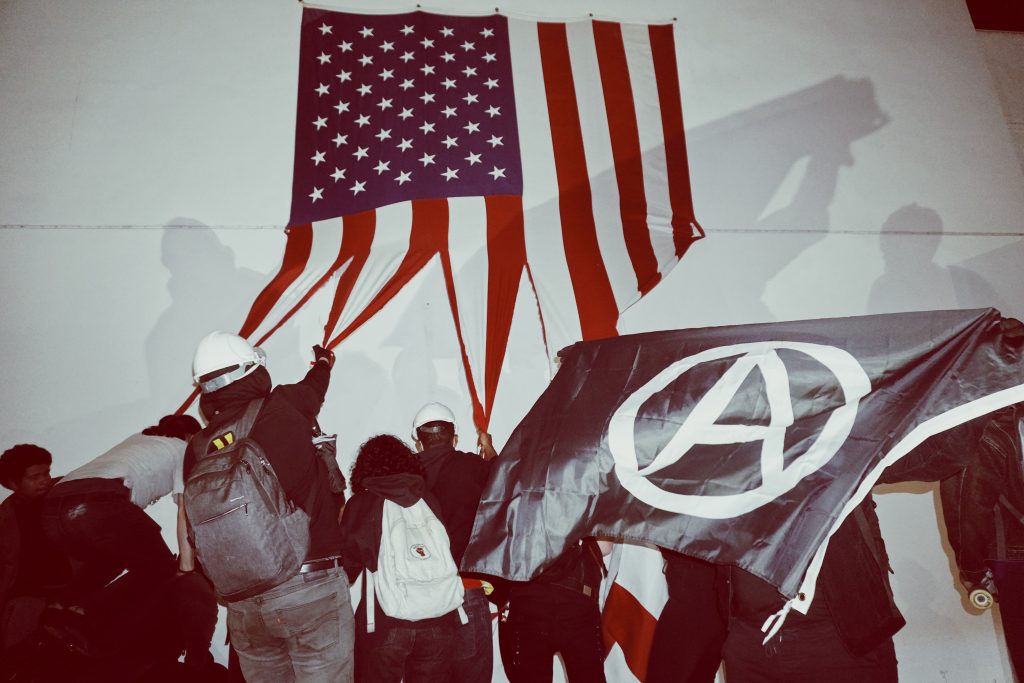 The stage was set at 9 PM. With protestors on bikes and cars blocking Santa Monica blvd from both directions of oncoming traffic, it was time for everyone to speak up. Posing personal questions regarding experiences with police brutality and homicide, calling to address racist family and friends, and boiling it down to the simple question: why are you really here? The mirror was presented to everyone in attendance as it put you front and center, requiring you to face head-on your own accountability. To some, it may have been uncomfortable because there was no way of writhing and escaping it, but if you already put the energy into being present at the protest, then it's your duty to wholeheartedly commit to the cause. This isn't for the gram, or to pretend like you give a damn!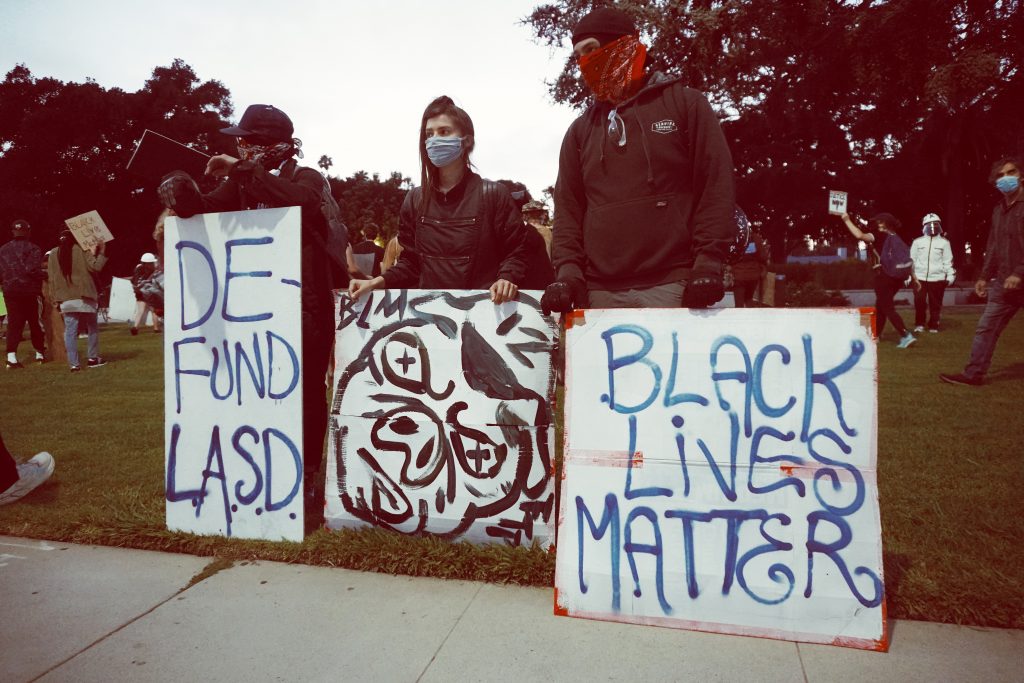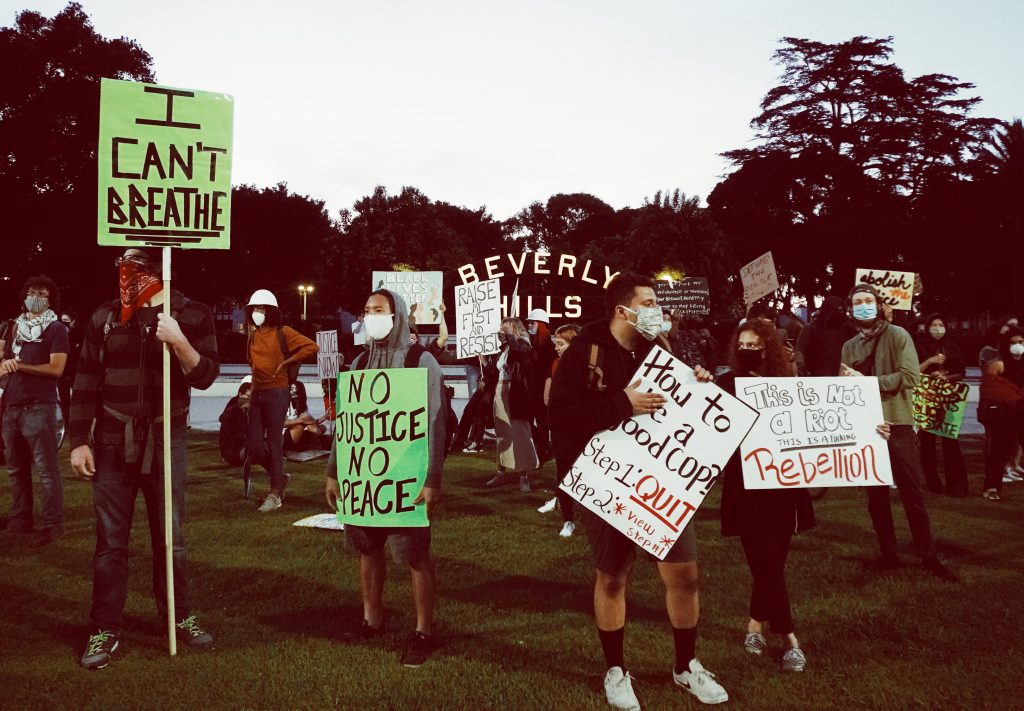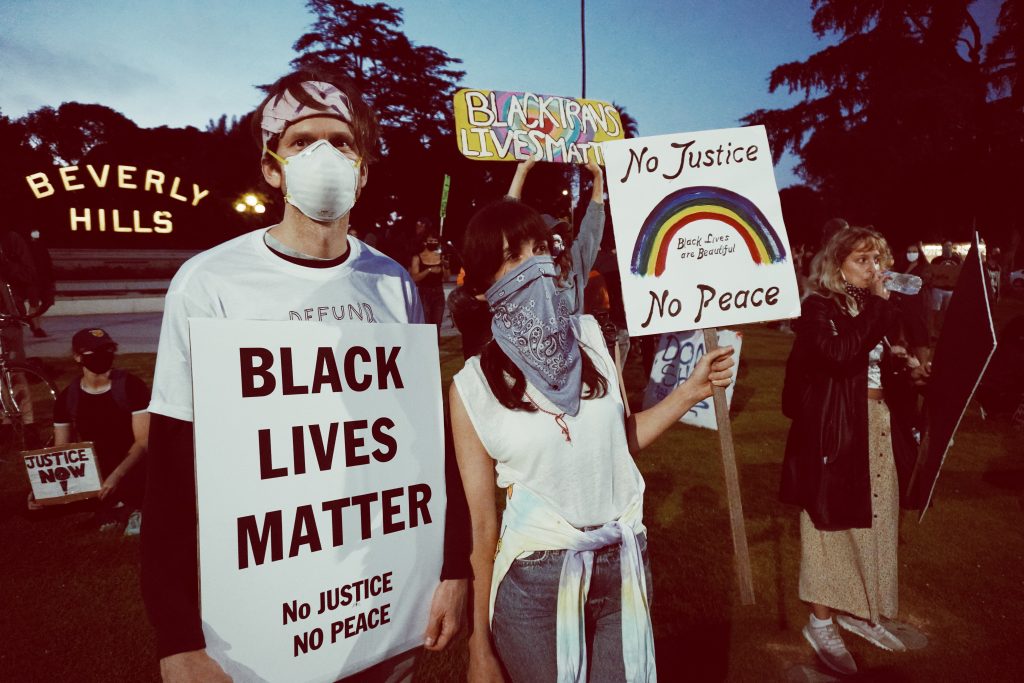 Overrun by pain, exhaustion, sadness, determination, and resilience, the message that reigns supreme above all is community, equality, and love.
As I made my way home, the message was clear; history as we know it must be re-written by the men and women of color who lived it, breathed it and bled it and the system needs to be rebuilt with members of the inclusive human race to objectively build a new foundation with LIBERTY, JUSTICE, WEALTH and FREEDOM for ALL.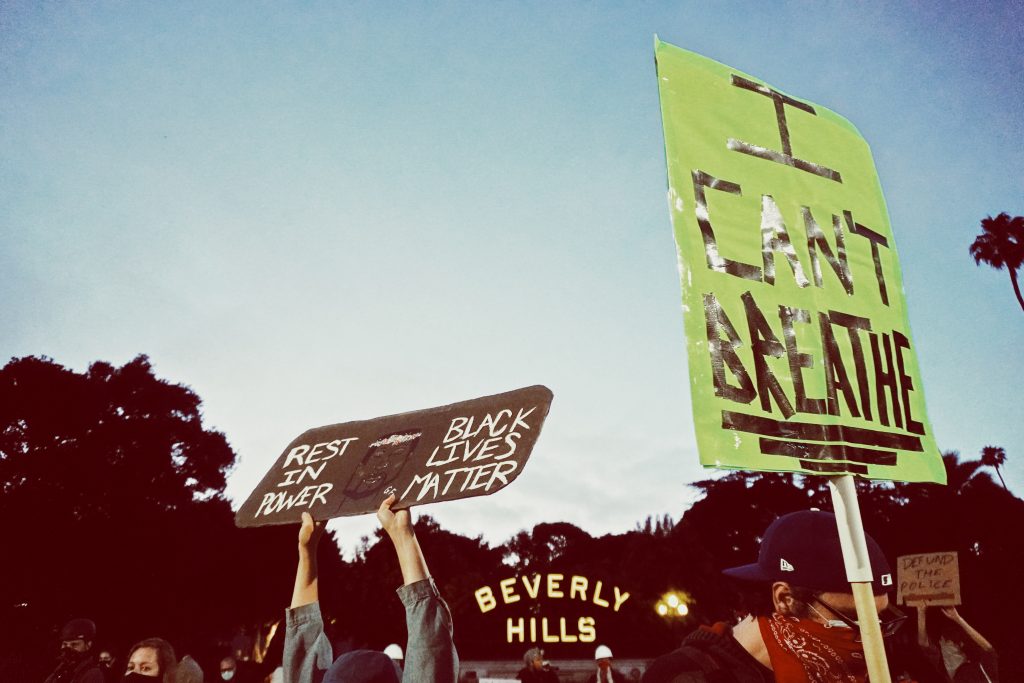 FOLLOW @wethemovement.la \\ @blackfutureproject
Photography and article written by Lola Langusta \\ @lolalangusta
Production @stonedfoxmedia
Shout out to our team Christina Barrel, Logan Stockwell and Maggie Barr