Researching TK Quann is an internet foray through the life and times of a twenty-first-century artist-influencer. It's tough to pinpoint exactly what she does—or rather, doesn't do—but the results Google returns are impressive: Instafamous, New York socialite who pens messages of self-acceptance and sociopolitical awareness. She is a model featured in Vogue spreads alongside her twin sister, Cipriana. A key contributor to the Urban Bush Babes blog, a digital hub born to celebrate natural hair that has grown into a distinguished voice on the culture at large: beauty, food, art, you name it—much like TK herself.
Dig a little deeper and you find TK Wonder, the singer/rapper/musician that delights the YouTube-sphere with 80s-inspired sounds and imaginative visual collaborations. From the minimalist-mod "Van Gogh" music video to live festival performances with energetic Electro-Balkan DJs, TK Wonder has a talent for mashing genres. She also has a knack for letting one art lead her to the next, evidenced by a music career that emerged from East Side poetry slams and a passion for writing. Infused into all of her creations, from songs to social posts, is a close attention to the issues that matter to her, like media representation.
"I am just a woman from Baltimore, Maryland trying to encourage women of color who doubt their beauty to do the opposite, and embrace it in a world that tells them otherwise,"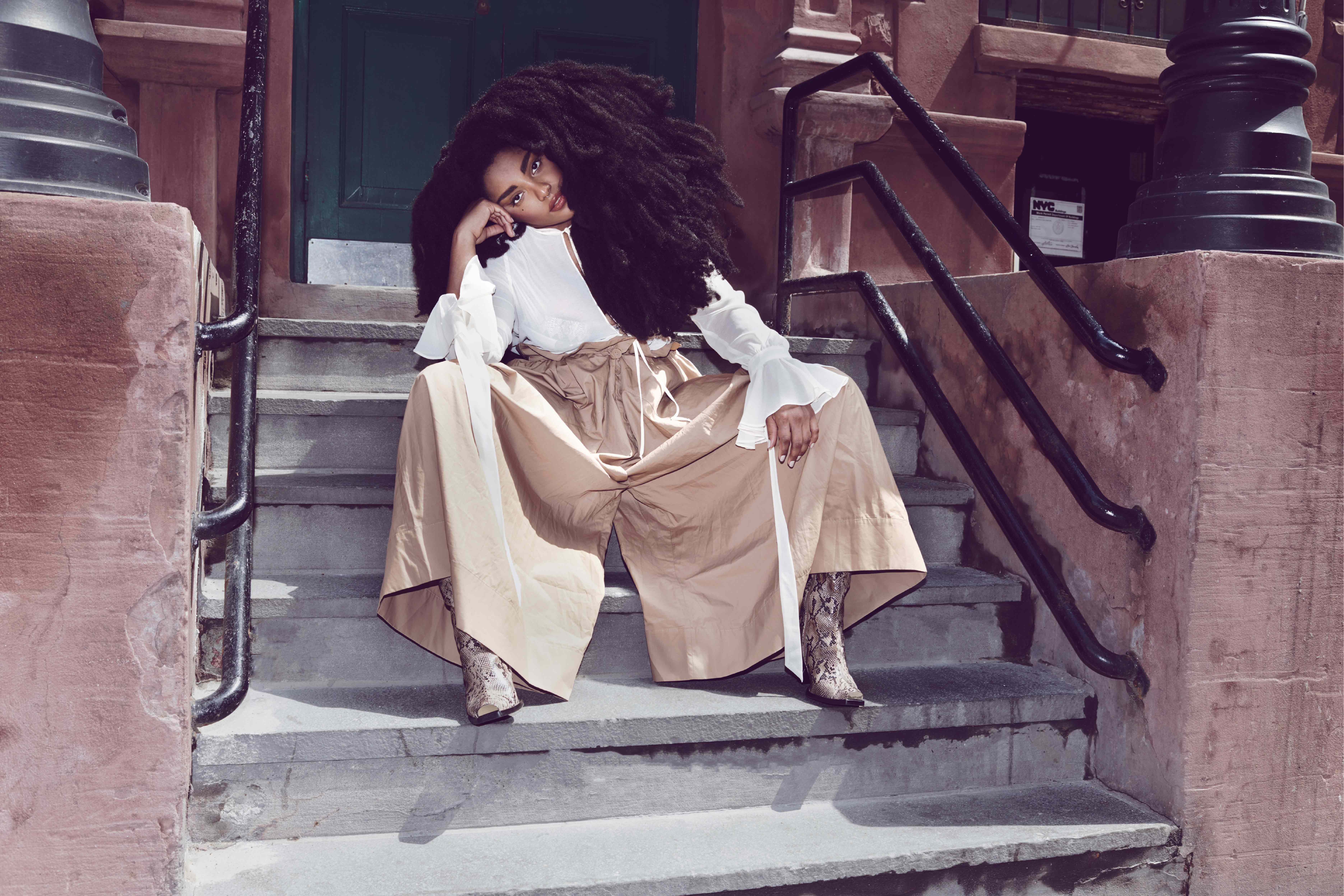 TK says. She's flattered but not comfortable embracing words like "pioneer" and "icon" that style-watchers and media outlets have used to describe her. Thoughtfully responding to our questions between work events running overtime, TK reminds us that the labels are rather irrelevant as one swiftly unfolds their destiny. Writer, musician, model. Pioneer or not. It's the doing that matters, and when you keep doing what calls to you, the dots will connect themselves.
"labels are rather irrelevant as one swiftly unfolds their destiny".
TK's latest use of her platform and eye for media misshaping is a call to the cannabis community. Her poem "The Less Greener Side" details the paradox of marijuana's proliferation in America, where people of color continue to grapple with biased police enforcement and disproportionate arrests for weed. Read on for the poem and TK's responses to Stoned Fox.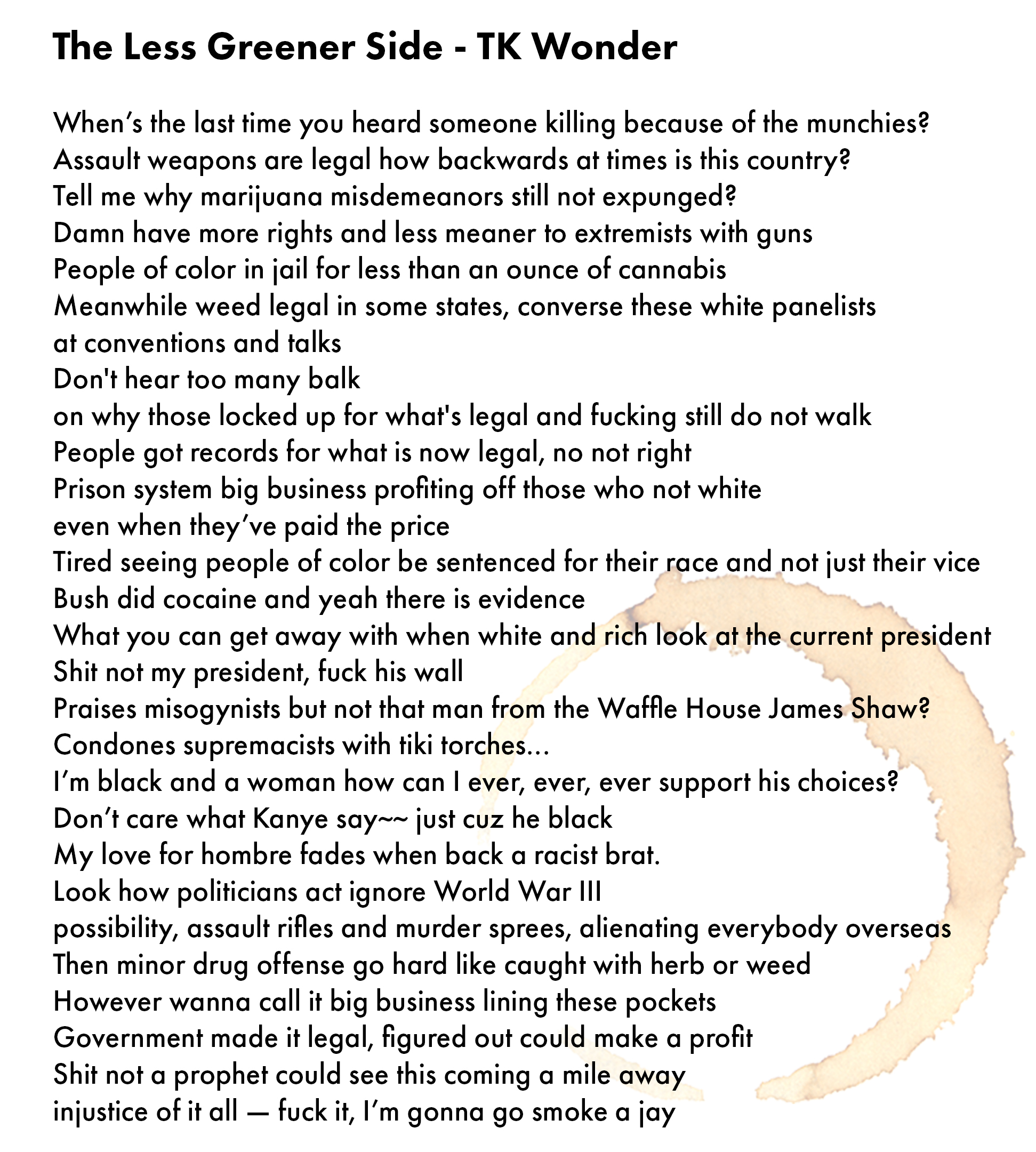 "I was reading a Washington Post article that stated in most cases people must request to have their record expunged and it can be a lengthy and costly process. It is absolutely absurd that those who have minor, misdemeanor marijuana charges have not automatically had their records expunged."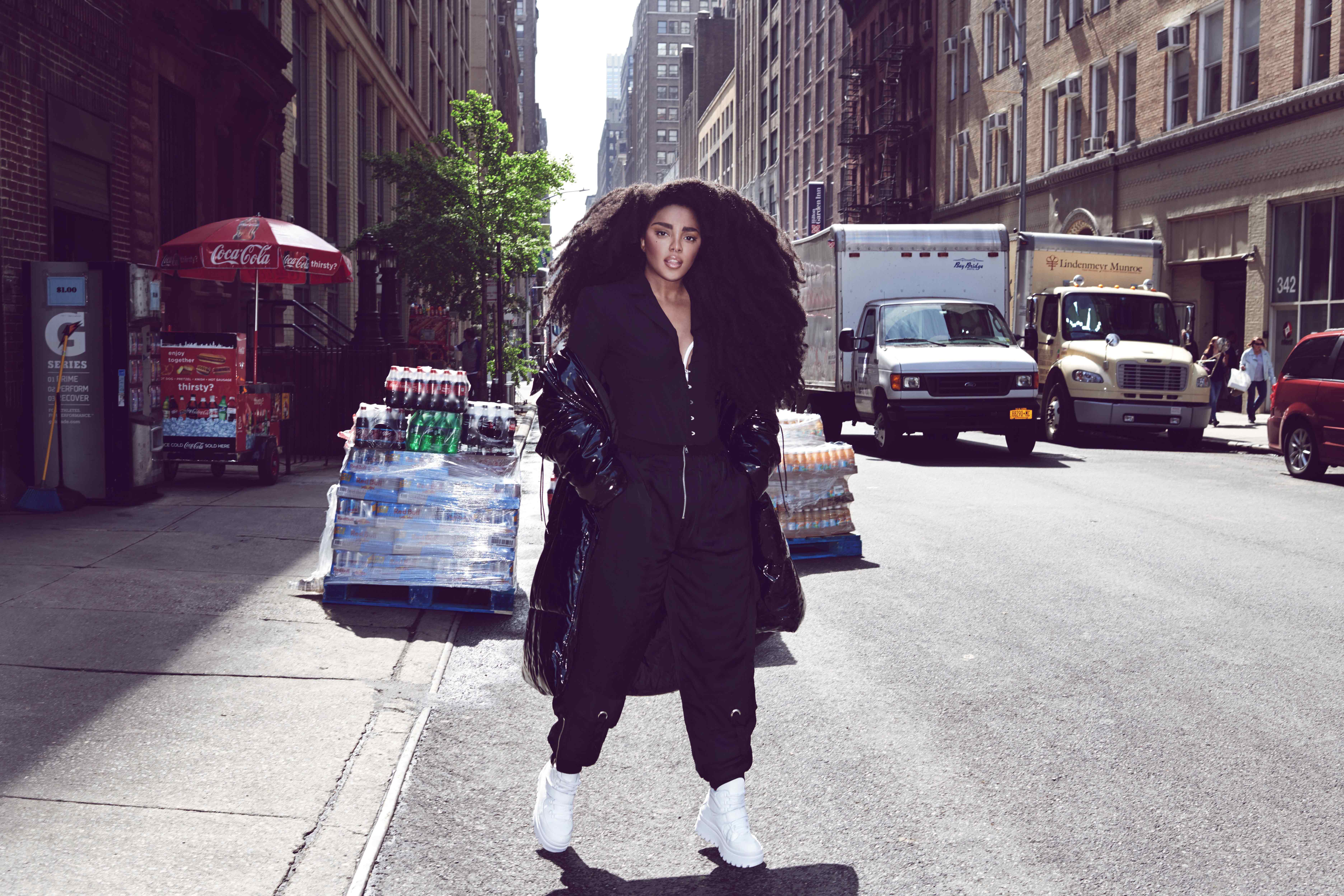 Stoned Fox: Who am I interviewing—TK Wonder, TK Quann? How do you introduce yourself, given all the different hats that you wear?
TK: I always introduce myself as TK. Rapper, writer, influencer, model and in a past life a food connoisseur.
SF: How did you start making music?
TK: I started performing spoken word in NY at a legendary little cafe in the lower East side call Nuyorican Cafe. It seemed like every time I finished reciting my poetry, I would have people ask me if I rapped. I suppose it was something about my rhyme schemes in my pieces so I decided to give it a try. I didn't feel as if it was for me so I stopped trying then decided to listen to Aaliyah, "If at first, you don't succeed, then pick yourself up and try again." So I did. I was working eight to 11-hour shifts as a cocktail server and coming home and writing and working on the craft until I felt comfortable. Then I continued to work on it until feeling comfortable became feeling confident. I worked on it every day. Soon I started performing at open mics in front of 50 people, most of the time one of the last people to perform…so by then more like 25 to 30 people.
I met some collaborators along the way and started to work on writing songs. I opened for Erykah Badu and Nas. Shortly after that, I met an incredibly talented artist from Macedonia, Kiril Djaikovski, that meshes electronic with traditional Balkan music. I started writing lyrics to his music and became one of his lead vocalists touring all over Europe, opening for artists such as Sting and Justice and performing in front of crowds of 30,000 to 500,000. It was a very surreal moment—or moments, I should say.
SF: How have you evolved as an artist over the last several years?
TK: My work no longer just encompasses music. It encompasses many different facets, such as fashion, sustainability, and social and political issues, which I like to tie into subject matters for my writing or the music I work on.
SF: What inspired your initial desire to become an artist?
TK: I guess my father. Cipriana and I had a very difficult relationship with our father…My mother and sister were such amazing blessings, and my father was perhaps more of a blessing in disguise because I watched who I did not want to be in life. He was extremely talented—I mean one of the best male singing voices I had ever heard, and I grew up listening to all the classics. A steady river of Motown classics flowed through my household.
He had convinced himself due to the difficult and violent upbringing that he was unable to achieve what he desired in life. This man taught himself how to play piano, read sheet music, fix cars. He had an innate gift for mathematics and singing without graduating high school…I didn't believe anyone like him could be held back by anything. But he believed it, and it ruled every aspect of his life. His demons stopped him from even trying to pursue his gifts. I knew I always enjoyed singing and would be involved in something creative when older, most likely writing, but the spark began at a very young age. I knew that all I could do was work hard and try. It's difficult to regret much in life if you try, and I learned that from watching my father do the opposite.
SF: What inspires you nowadays?
TK: The news, books, journeys of strong women of color and Kendrick Lamar. I start my day every day by watching the news. I know some people say the news is depressing and they don't watch it or limit their intake but I am the complete opposite. Being aware and informed, reading and watching various outlets and arguments or discussions helps you form your own opinions and gain a sense of awareness of what is outside your bubble. I am frustrated with the current state of affairs especially for people of color in this country when it comes to justice or positive representation in the media and film, so I vent by writing posts or rap lyrics.
I've been writing poetry, short stories, screenplays since I was a kid. Growing up I had a very difficult childhood filled with violence, and writing and reading was my safe place. It was and is a cathartic experience. Regarding books: I am a colossal proponent of the power of reading. In the age of social media visuals reign supreme, however, the art of a great book can be extremely visually stimulating. I realize just how short of an attention span some people possess when I write a two-sentence caption on Instagram and someone comments with a question that can be answered in the caption.
As far as strong women of color go, I am lucky to have a mother and sister who are the epitome of that mold. These are two women who have been and will always be a source of inspiration in my life. So it is frustrating that consistent representation of women of color is severely lacking in the fashion, beauty and film industry. We are thought of more as a quota to be met then a standard to be met and women who continue to fight to break that cycle are always a source of inspiration. I am proud to consider myself one of them. I mean do I really have to get into specifics about why Kendrick Lamar is inspiring? Probably not.
SF: We noticed that you don't shy away from a longer character count on Instagram (amen), and you also have a devoted following. How would you describe your relationship with social media?
TK: Haha! I assume you understand the longer character count then. I truly appreciate all the love on social media from those who do follow me. I love me some longer character count posts on Instagram. Social media for me is another platform that gives me a chance to do what I love. Write. Yes, I love fashion and posting photos; however, the ultimate goal is to, at least 80 to 90 percent of the time, tie that element in with something social or political or utilize the gram as a sounding board for things that matter to me, and hopefully make then matter to others as well.
SF: What cultural shifts do you see coming, from your purview?
TK: I love when young people use their platform to raise awareness or to speak up against injustice concerning subject matters that mean something to them. I mean now it's "cool" to support an organization or to be vocal and I honestly think it's coming from a place that doesn't seem organic all the time…You know it's trendy to be down for a cause. With that said, I don't care how one starts to be vocal or chooses to support a cause or an organization as long as that "trendy" line of thinking turns into something of substance. Something that is real. Some companies and brands view diversity and inclusion as a trend, a hot commodity, however, trends come and go. Diversity is here to stay. It's about continuing to change that paradigm and I see this as a cultural shift that will continue to be expanded upon for the better.
SF: What's on your personal horizon?
TK: Definitely a book with my sister and looking into the TV realm that focuses what my sister and I are passionate about. I also love, love, loveeeee food! I would love to find a project with my sister that meshes food, travel, fashion and music.
SF: As a Gemini, I'm curious to know what it's like to have a twin.
TK: My twin sister and I identify as Tauruses, albeit we are on the cusp of Taurus/Gemini. I don't know how I ended up so incredibly lucky but that's how I feel having Cipriana as a twin sister. People will sometimes inquire, "What about your sister annoys you sometimes." We always reply, "Nothing." Maybe the only thing that annoys me is receiving that question about my sister. She is my best friend. We are around each other often for work and on our off days and if we don't see each other we speak on the phone. My boyfriend can certainly attest to how much we talk on the phone. I think the world would be in much better shape if everyone had a positive and loving twin sister or brother.
SF: What's your grand plan?
TK: If you asked me five years ago what I would be doing, I never would have envisioned working in the field I am now. However, I have always viewed opportunities in this way: If a door opens that I never imagined would open and it seems like the right fit, I will walk through it. The grand plan is to continue that ideology and see where the right doors take me with determination and hard work as my fuel.
SF: What's your dream gig?
TK: I've been so fortunate to have a few dream gigs already but I'd have to say Glastonbury. I love performing at festivals.
SF: If you could share a joint with anyone, who would it be and what's playing in the background?Set the scene.
TK: Dead or alive? I am going to cheat and pick more than one. I would choose Michelle Obama, Bob Marley, Tina Turner, Questlove and Malcolm X. We'd chill on a beautiful boat in the middle of a beautiful nowhere listening to Gil Scott Heron and Etta James and discuss anything and everything.
SF: You've recently written spoken word features about continued incarceration for marijuana amid widespread legalization. Can you share your thoughts here?
Why would you want someone to continue to feel the ramifications of something that is no longer illegal? I was reading a Washington Post article that stated in most cases people must request to have their record expunged and it can be a lengthy and costly process. It is absolutely absurd that those who have minor, misdemeanor marijuana charges have not automatically had their records expunged.
It seems that quite a few states are adhering to Attorney General Jeff Sessions' stance: he has stated, (I quote) "Good people don't smoke marijuana," He even said about the KKK "I thought those guys were okay until I learned they smoked pot." I mean, this is a person we are supposed to take seriously? On the discussion of legalizing marijuana and the medicinal purposes of marijuana? We're seriously supposed to think that Bob Marley or Willie Nelson, Rihanna geez Professor Charles Xavier smokes and they are all bad people? I'm joking but seriously Patrick Stewart has said he smokes to handle his arthritis pain.
I can't be the only one that finds the extreme irony in people being locked up for what is now legal in some states. And when released, if they desire to be involved in the cannabis business, many are unable to legally sell it or it is a difficult process.
San Francisco District Attorney George Gascón stated that his office will clear all marijuana misdemeanor convictions dating to 1975 and look over all felony convictions to see if they are eligible for a reduction. This should be a mandate across the board in every state that has legalized marijuana.
It is like the government is saying, "Hey, we're going to make marijuana legal. Yeah, yeah I know we said it's illegal but we found a way to monetize it because this is big business. I know you may be locked up for a marijuana charge but that applied when it was illegal but now that it is legal we're still going to keep you locked up because we can. It doesn't make sense, I know, but we're making money either way soooo…"
On average in Nevada legal sales of marijuana exceeds a million dollars a day. A disproportionate amount of people in low-income communities are affected by their records and missing out on their chance at a piece of the pie. The very same pie that was once illegal.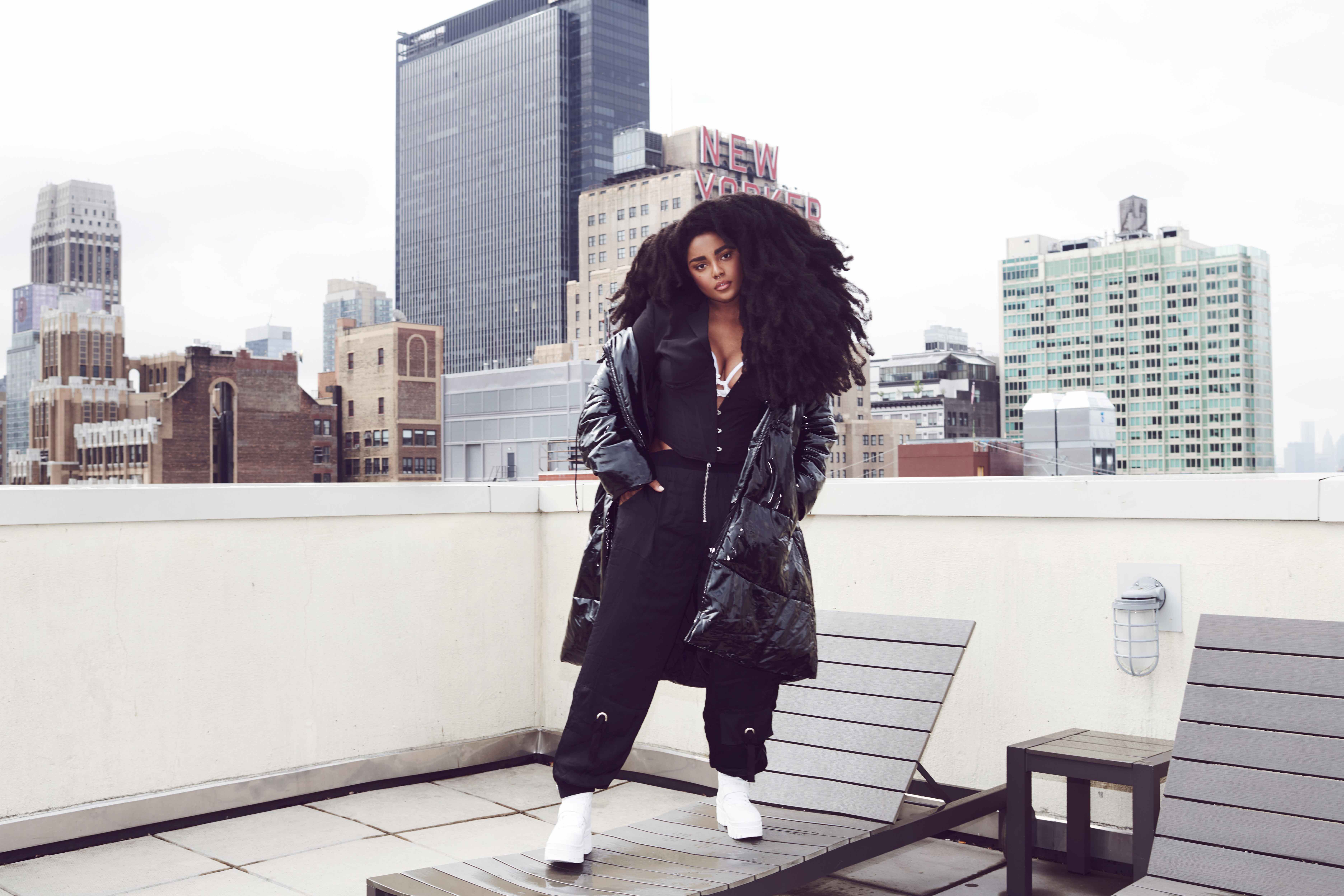 Featuring – Tk Wonder @tk_wonder
Photography – Terry Gates @Terrygates
Creative Direction/Video Edit – Lola Langusta @thelolalangusta
Video – Kezi Ban @kezibanbarry